A museum has changed the skin tone of its Dwayne Johnson wax statue after it was criticised for being too white.
The actor said he would be getting the Grevin Museum in Paris to "update" the skin tone of a wax figure they had just unveiled of him.
The former WWE wrestler shared a post on Instagram by a content creator who said the figure was "missing all the colour".
Johnson, who said he "belly laughed" at reactions to the statue, added on Instagram on Monday: "For the record, I'm going to have my team reach out to our friends at Grevin Museum in Paris France so we can work at 'updating' my wax figure here with some important details and improvements – starting with my skin colour."
The Grevin Museum in Paris said Johnson was "right" to point out the inaccurate skin tone and that it was "fixed overnight".
"We have remedied the skin tone," a spokesman for the museum said.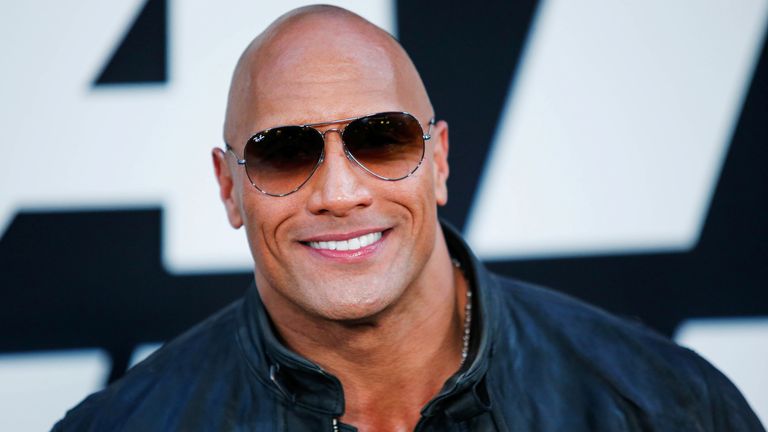 Image: Dwayne Johnson
The museum said in its initial announcement unveiling the 6ft 5in sculpture that it "presented many challenges" for the sculpting team.
It said its team went to gyms in the hope of finding a man who matched Johnson's "extraordinary measurements".
The star's Samoan tattoos took painters 10 days of "painstaking" work, and that the waxwork's eyes had to be redone three times to avoid "too dark a tint, making the star's face too hard and erasing its warm aspect".
Read more from Sky News:
10 revelations from Britney Spears' tell-all book
Sculpture commemorating alligator sewer myth unveiled
Sculptor Stéphane Barret added: "It's true that it's always impressive to make people of this size.
"We were lucky enough to find someone who physically matched Dwayne Johnson's build and height. That really allowed us to get it right.
"What was a little harder for me was the sample photo that was chosen, where he just had a very slight smile on his face, an expression that's quite difficult to achieve. It was very subtle.
"We worked on his face and eyes several times, because the most complicated thing about realism is getting the statue to come alive from the visitors' perspective."
Despite the blunder, Johnson said in his Instagram post that he would "stop in and have a drink with myself" the next time he was in Paris.
The waxwork stands alongside 250 famous faces at the museum – including film stars Penelope Cruz and Leonardo DiCaprio – which is modelled on London's Madame Tussauds.