Wrestlers have brawled on a packed bullet train in Japan – with a half-hour match fought in a narrow aisle.
DDT Pro-Wrestling organised the event, with all 75 seats selling out within half an hour, according to media outlet Japan News.
The fight, which pitted Minoru Suzuki against Sanshiro Takagi, took place on the 180mph Nozomi Shinkansen bullet train between Tokyo and Nagoya on Monday.
Image: Minoru Suzuki and Sanshiro Takagi fought it out
The fighters exchanged blows and performed daring manoeuvres, while onlookers recorded the rumble and took pictures from their seats.
DDT hired out the entire carriage for the match.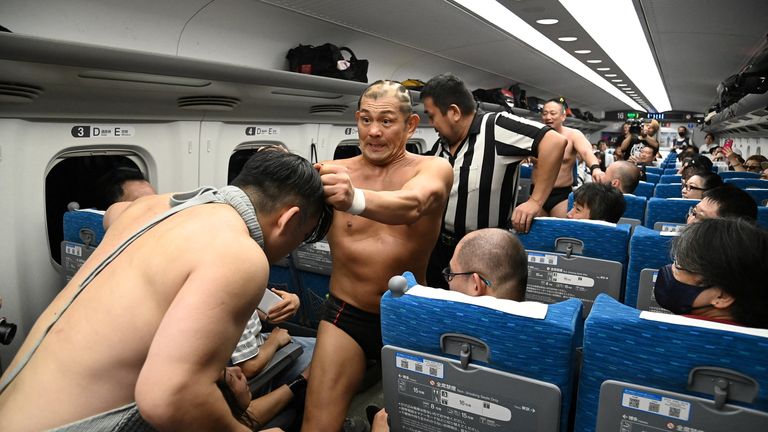 Image: The match lasted 30 minutes – with Suzuki emerging victorious
The group has form for hosting bouts in unusual places, with a bookshop and a campsite the venues for previous fights.
Suzuki won the latest out-of-ring fight on the train.
Read more:
Hulk Hogan reveals weight loss – and how he did it
WWE star dies aged 36